THE BABY GAME BY ANDIE M LONG
SPECIALIST BLOG TOUR BY FRANCESSCA'S PR & DESIGNS
The next installment in the bestselling Alpha Series.
The Baby Game
Ronnie Taylor and husband Harry had agreed they'd wait a few years until starting a family. So when Ronnie discovers she's pregnant after being a bit too casual with her contraception, she finds herself in a dilemma. Harry is taking his mother on the trip of a lifetime at the same time as their bundle of joy is due. If she tells him, he'll cancel the trip and she doesn't want his mother to miss out.
In typical Ronnie style, she ropes in TV Researcher and friend Nina, and pretends she's filming a reality show about eating junk food. She's going to blame all her baby weight gain on burgers. Surely she can't get away with it? Or can she..?
With cravings for dog food, a mission to match-make her midwife and a never-to-be forgotten speech for a Healthy Eating charity event, it's another hilarious adventure with the loveable, crazy 'ladygardener'.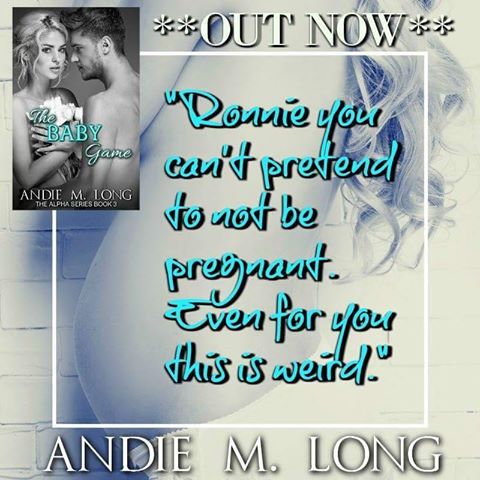 Purchase Links
REVIEW
The Baby Game by Andie M Long, Is so bloody funny! I just loved the relationship between Ronnie and Harry, Honestly, theirs is a relationship everyone should experience. The crazy things that Ronnie thinks up just to hide her bump, or cravings, were hilarious.
My favourite 'cover up story' was when she felt the baby move the first time and got emotional, when Harry heard her sobbing she had to think of a cover up story QUICKLY, The reason? She hates the carpet!! LOL Harry was a typical man, not liking when someone cries, he agreed to change the carpet to stop her crying.
I would definitely recommend this book. It is extremely well written and will have you giggling from start to finish.
1. Favourite line you've ever written in one of your books?
Oh my goodness. I'm not sure. I really like the opening line of The Alphabet Game - Getting sexually accosted in Starbucks wasn't on my to-do list.
2. What project are you working on at the minute? ( are you allowed totellus?)
Yes! I'm writing Jingle Balls and Dora isn't happy because the family are taking over and ruining her plans for Christmas!
3. Do you have any hidden talents?
I can make awesome cupcakes and I'm super talented at sleeping!
4. If you were written about in the newspaper, on the front page, what would the headline say?
Author streaks across football pitch wearing only a picture of her book cover.
5. Are you a Listener or a Talker?
I love talking. I'm a chatterbox. I can listen for so long and then in my head I'm thinking oh shut up.
6. What do you miss most about childhood?
The fact that you have freedom to act as silly as you want.
7. What childish thing do you still do as an adult?
Spin around in the house when I feel like it.
8. If you were to write a book about yourself, What would you name it?
9. Tell us about a unique or quirky habit you have:
If I fold towels the label has to be on the inside.
10. List 5 adjectives that best describe you.
Enthusiastic. Funny. Trustworthy. Introverted. Faithful.
11. What do you love most about the book world?
12. Which writer inspires you and why?
I was totally inspired by E L James for releasing her sexy scenes. It inspired me to write The Alphabet Game with no restraints after having removed all of the sexy scenes of Underneath because I was scared of being judged. I'm also inspired by a not-real writer, Carrie Bradshaw off Sexy and the City. My original inspirational hero.
About The Author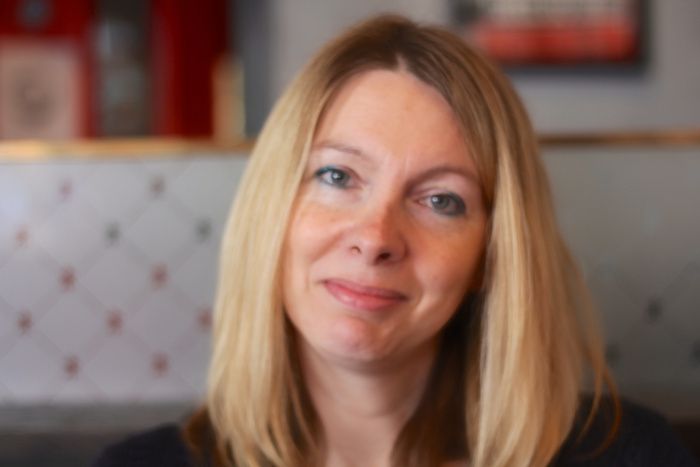 Andie M. Long is author of The Alpha series which includes Amazon Number One Erotic Thriller The Alphabet Game; Co-writer of the Amazon Number One Erotic Romance/Adult fiction bestseller The Bunk Up with DH Sidebottom and The Ball Games series, amongst others.
She lives in Sheffield with her son and long suffering partner.
When not being partner, mother, employee or writer she can usually be found on Facebook or walking her whippet, Bella.
Andie will be signing in Liverpool and Newcastle 2017 and York 2018.
FOLLOW ANDIE:
Mailing List
(get a free ebook of Alphabet Wedding and Quickies on sign-up)
EMAIL: contact@andiemlongwriter.com